Every fantasy season brings about the desire to find sleepers, players that might be overlooked for some reason. In the information age, few players are going to be totally overlooked, but there may be reasons to hold out hope for better production.
Players coming back from injuries or that had rough percentages (individual and on-ice shooting) in 2016-17 could have a path to better numbers this season.
Here are some sleeper candidates for the 2017-18 NHL season:
SLEEPERS
Claude Giroux, C, Philadelphia – Coming off a season in which he scored 58 points, his lowest total in a full season since 2009-10, Giroux's star has dimmed, and there are legitimate reasons for concern – his 2.43 shots per game was his lowest since 2010-11, and is way down from the 3.44 per game he had in 2014-15 – but the percentages weren't working in Giroux's favour at all last season. He had a shooting percentage of 7.0%, easily the lowest of his career, and his on-ice shooting percentage (at 5-on-5) was a career-low 6.1%. This season, he's started out on the left side of a line with Sean Couturier and Jakub Voracek, and while that unit should drive play, the odds are good that Giroux will have better percentages in 2017-18.
Matt Duchene, C, Colorado – After a horrible 2016-17 season, during which he didn't record a single point during a 21-game stretch in the second half of the season, the 26-year-old centre will assuredly be better this season. His shot generation was down, to a career-low 2.08 shots per game, and his on-ice shooting percentage (6.3%) was his lowest since 2011-12, and those are likely to improve no matter where he plays. Further upside for Duchene is that, if a trade finally gets worked out, he might end up playing somewhere other than Colorado this season.
Ales Hemsky, RW, Montreal – Expectations have to be reasonable for a 34-year-old winger coming off an injury-plagued season, but Hemsky remains a skilled winger, capable of contributing alongside skilled linemates. He's getting a chance, at least to start, on the Habs' top line with Max Pacioretty and Jonathan Drouin, so if Hemsky manages to stick there, he'll have an opportunity to put up points.
Patrick Sharp, LW, Chicago – Hemsky's teammate in Dallas last season, 35-year-old Sharp also missed a bunch of time with injuries and struggled on his way to 18 points in 48 games. Although he still generated more than three shots on goal per game, he shot a career-low 5.5% and his 5.2% on-ice shooting percentage was by far the worst of his career. Returning to Chicago, Sharp is slated to play in the top six, and if those percentages bounce back then Sharp's production should recover, too.
Aaron Ekblad, D, Florida – A defenceman who has produced 37 goals in his first three seasons isn't easily going to fly under the radar, but the 21-year-old is coming off a season in which he had a ridiculously low 4.9% on-ice shooting percentage, so if that percentage bounces back to more normal range (8.4% through his first two seasons), Ekblad's numbers could take off.
Nick Bjugstad, C, Florida – Suffering a broken hand in the preseason sent last season into a tailspin, and expectations will be low after he managed just 14 points in 54 games. His shot generation and percentages crashed too, so his ice time was down to a career-low 13:09 per game, but with a fresh start this year it's hard to imagine he could be worse.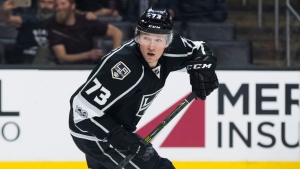 Tyler Toffoli, RW, Los Angeles – Low shooting percentages were standard for the Kings, who shot a league-low 6.3% during 5-on-5 play last season, down from 28th-ranked 6.8% the year before. Toffoli missed time with injury, but combined with declining percentages, his production dropped significantly from his career-best 2015-16 season.
Drew Doughty, Alec Martinez and Jake Muzzin, D, Los Angeles – All three of these Kings defencemen are productive enough to generate fantasy interest, and all had poor on-ice shooting percentages last season (as noted, the Kings were worst in the league at finishing 5-on-5) and, even before any kind of strategic changes under a new head coach, it's fair to expect those percentages to improve.
Sam Bennett, C, Calgary – The 21-year-old centre struggled in his second season, with his point totals dropping from 36 to 26. That drop in production was earned, to some degree, because his percentages weren't terrible, but he's a young player with skill to produce more than he did last season.
Ryan Callahan, RW, Tampa Bay – A 32-year-old winger who played just 18 games last year, and was sidelined by hip surgery, it may require digging a little deeper for Callahan, but if he's healthy, he should have a regular role in the Lightning top nine, and if he has serviceable goal and point production, his hit totals could give Callahan surprising fantasy value.